HEALTHCARE AND HAPPINESS TO THE PEOPLE OF THE EAST
In September 2022, ChariTree Namibia executed a CSR campaign for Wutow Trading Pty (ltd) to assist the vulnerable communities in the rural East of Namibia that consist of mainly San citizens. Through an innovative collaboration with the Naankuse Foundation, Ark Trading and Plastilon, ChariTree facilitated a hand-over of cleaning goods, personaly hygiene products and dry food that would benefit the lives of over 4000 people in the rural East. The campaign was warmly welcomed by the beneficiaries and widely covered by the local media. It solidified Wutow Trading as a caring and ethical brand in the country.
4 000 vulnerable people benefitted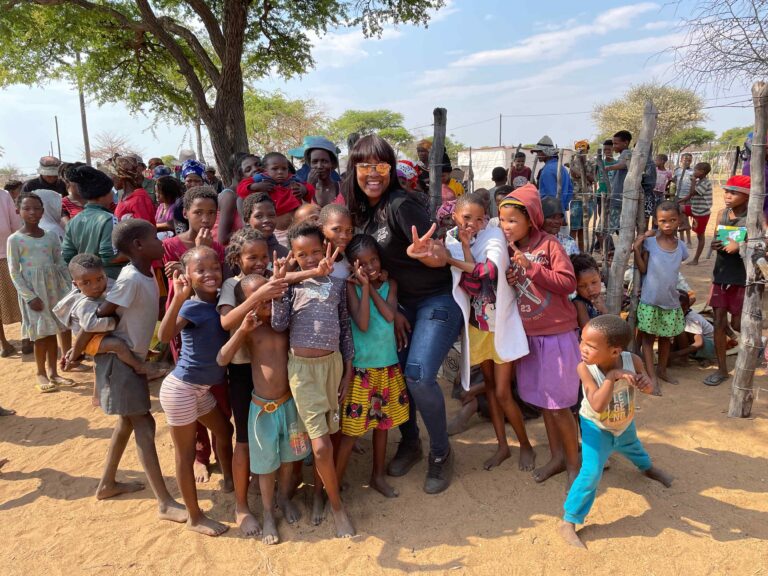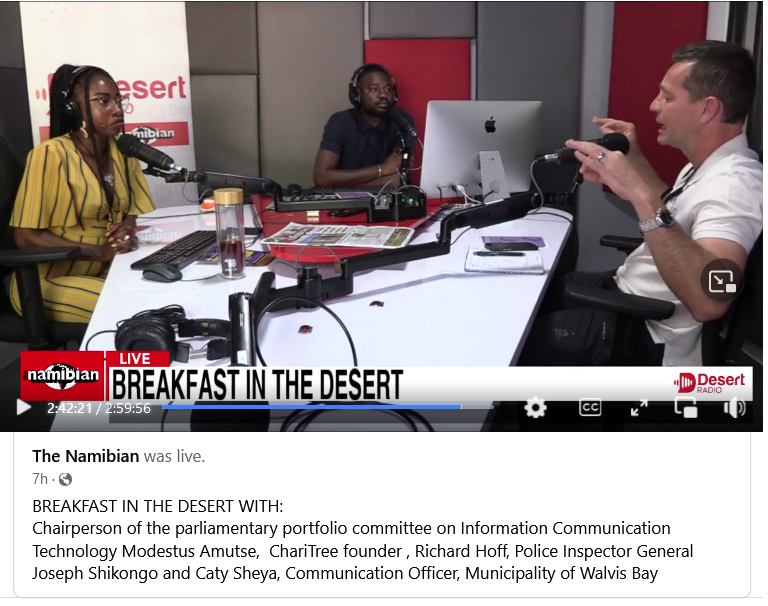 Tonnes of goods delivered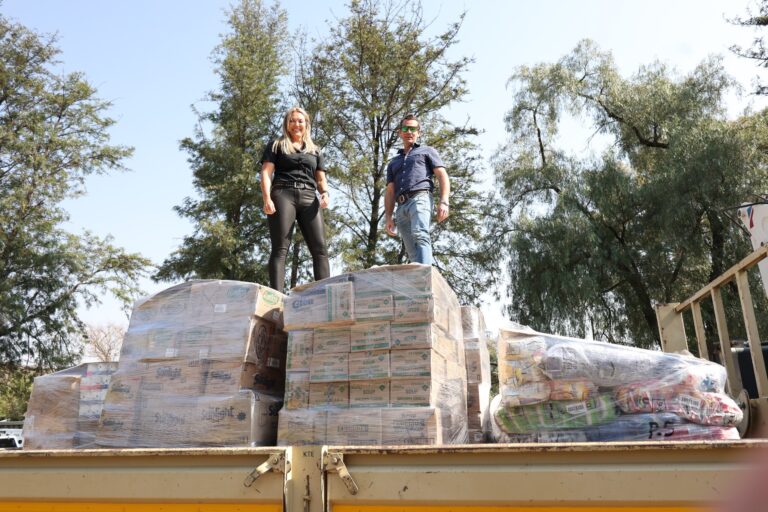 283 000 social media users reached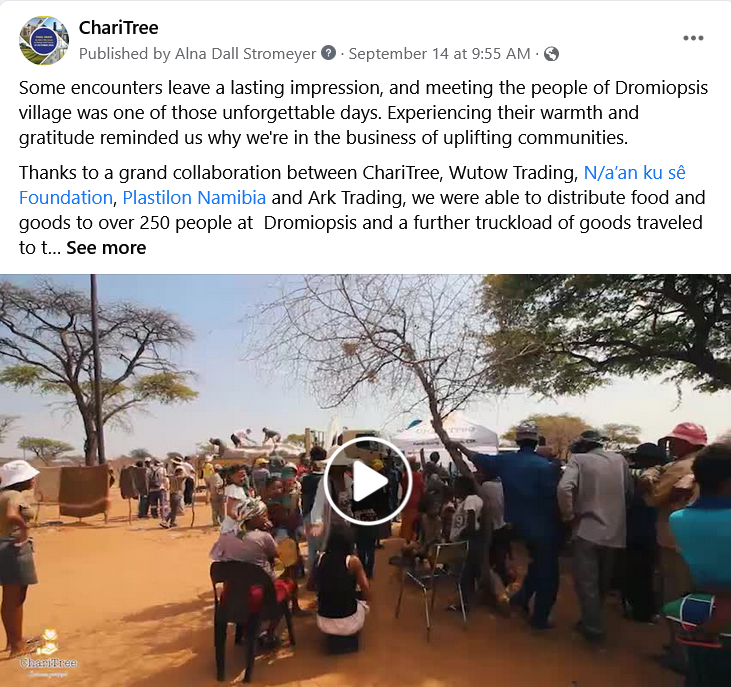 SUPPORTING CHILDREN OF THE RED CROSS
In September, we handed over goods like nappies and cleaning supplies on behalf of Wutow Trading to the Red Cross Society and we were joined by the beautiful Miss Namibia, Chelsi Shikongo! It feels good to do what we do! We connect businesses, suppliers and donors with registered charities like the Red Cross Society who has mobilized over 4000 volunteers to help vulnerable people. Thanks Red Cross Society and thanks Wutow Trading!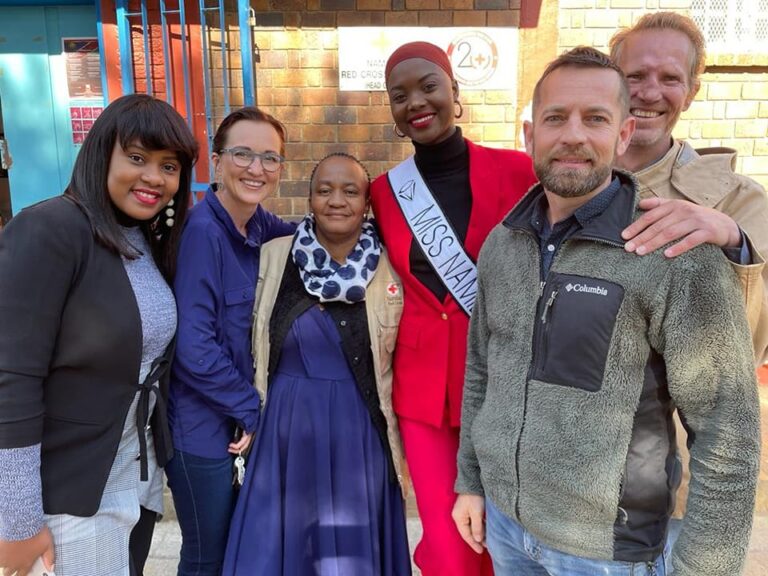 REWARDING SERVANT LEADERSHIP
In September 2022, we reached out to Simon Haidula who was recently mentioned in the media for his loyal contribution to improving the lives of the elderly in his community. Simon, with a few colleagues, collect the dirty clothes of pensioners and wash them every week. Donations from Wutow Trading made it possible for us to give his foundation loads of washing powder and fabric softener, as well as a certificate of appreciation.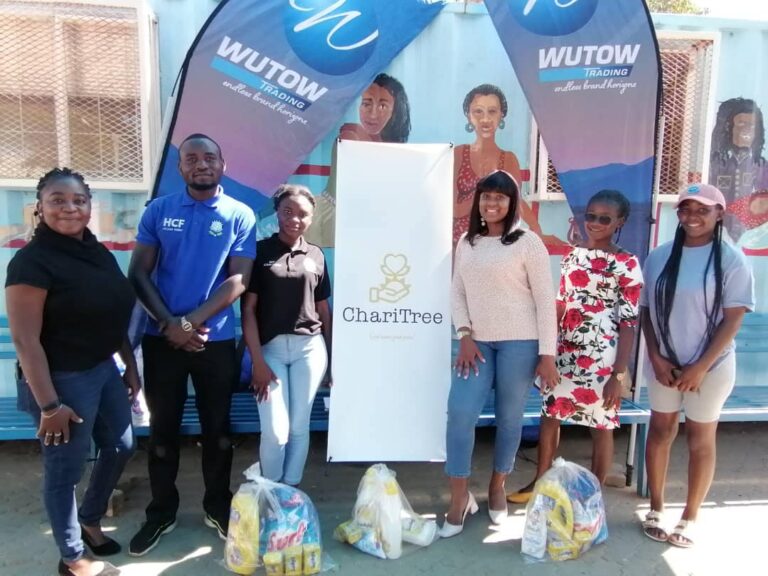 YOGA FOR FIRST RESPONDERS
To celebrate #WorldMentalHealthDay2022, we treated the first responders at Emergency Medical Services to a special yoga session with instructor, CJ Brand. The event was to help them learn ways to cope with stress, but also to make their efforts in assisting the community known to the public. A beneficiary since 2020, EMA is a non-profit organisation and does not charge their patients anything for ambulance services